Passengers show support to public transport key workers during pandemic 17/04/2020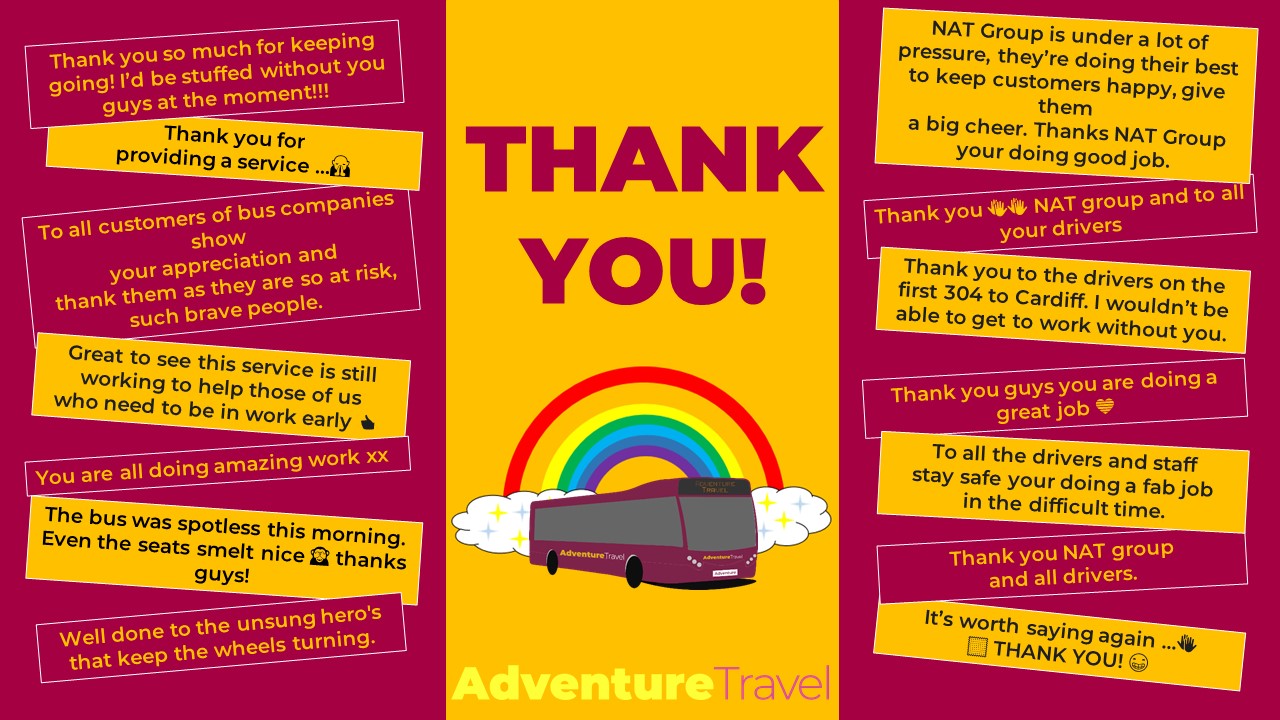 Prominent Welsh bus operator, NAT Group, has received messages of gratitude from customers for its services during the Covid-19 pandemic.
NAT Group has provided transport for members of the public across South Wales, including key workers, for essential travel since the lockdown period came into effect on 23 March. This includes travelling to and from work if unable do so at home, travelling for medical reasons and essential shopping.
The bus operator, which is offering free travel to NHS workers, has also introduced measures to help mitigate the spread of coronavirus including implementing a cashless payment system, reducing passenger capacity to meet social distancing guidelines and increasing thorough cleaning of its fleet.
In recognition of NAT Group's continued services and safety measures, several passengers have sent messages of thanks and appreciation to the company directly and on social media. The messages include gratitude for providing vital services for key workers and essential travellers in addition to celebrating the drivers and staff.
A selection of the messages received have been turned into posters which the company intends to display at their depot and on-board buses in the near future.
NAT Group Managing Director, Adam Keen, said: "We have appreciated every message we have received regarding our services and staff. It's always nice to receive positive feedback but, in these times of uncertainty, the kind words of our customers feel particularly special.
"We have collated these thoughtful messages to create a collage to display across our operations in South Wales and will also be featuring them in our staff newsletter to highlight to our valued team that their hard work is recognised."
From Monday (20 April), NAT Group will extend its 404 service from Pontypridd to Bridgend following requests from essential travelers and key workers using the route.