Day in the life of an Adventure Travel coach driver.. 08/01/2021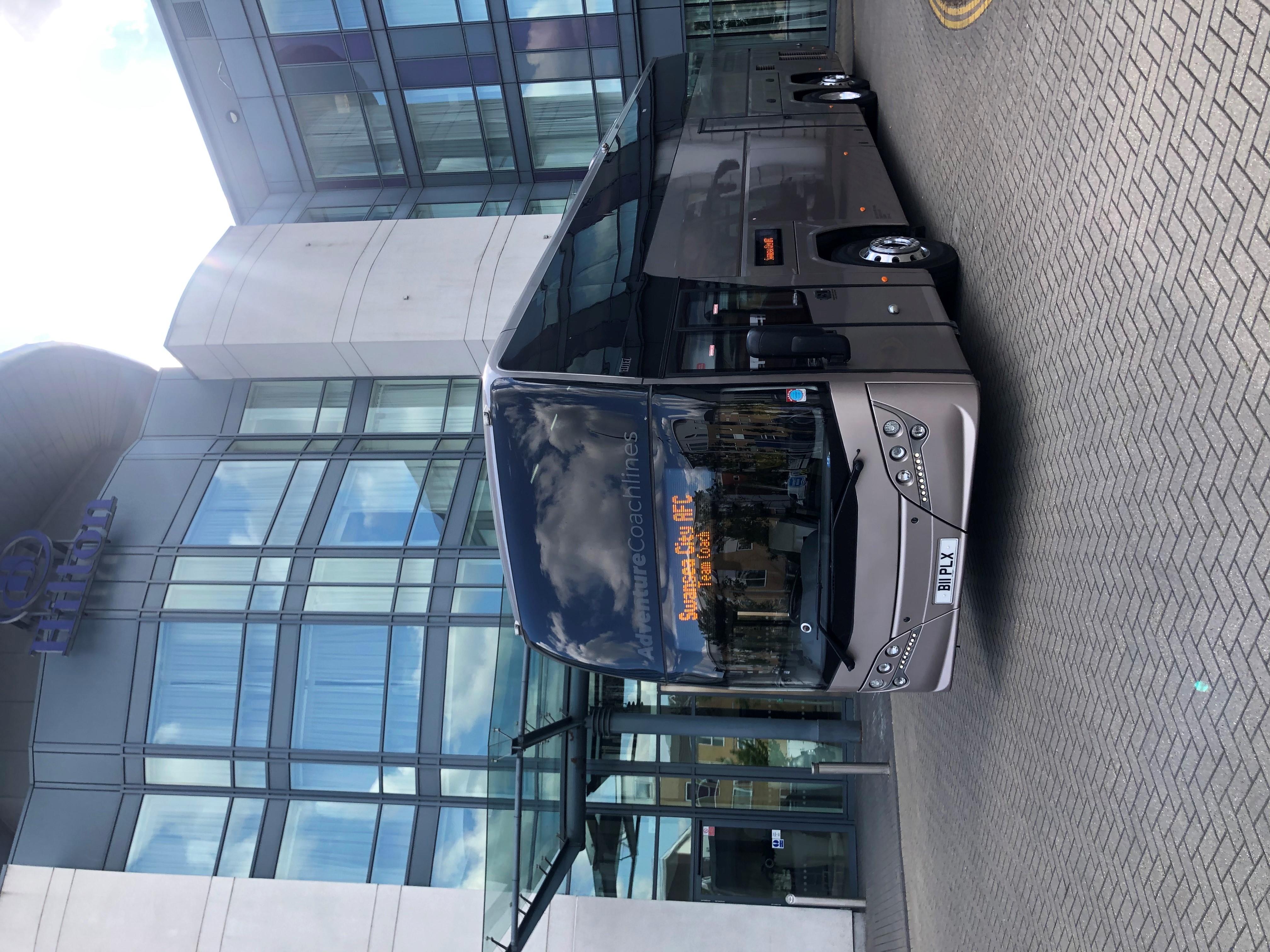 It is always an early start, we quietly shuffle out of the house, trying not to wake everybody up before the larks are even awake.
We meet in the yard bleary-eyed with a coffee in hand, prep the coach, and give it a final clean, arriving at Liberty Stadium at least 5 hours before we are due to depart. There are always two of us on the journey, one of us drives and the other navigates and is responsible for the radio.
The chef meets us and we help them load the dishes onto the coach, assortments of fruits, vegetables a surprising amount of 'fast food' burgers, chicken & wedges. When the food and kit have been loaded onto the coach, we carry out our final checks and then depart. 
It's become mandatory to get 'diet' sausage and chips for brekkie from Rossi's as soon as it opens, we've become such regulars that they don't even ask us for our order anymore, it's their first order of the day.
Once we've finished our battered breakfast we head back to the Stadium and wait for the players to get on board.
We take it in turns to drive, but one of us tends to drive for as long as we are legally allowed, or until our bladder can't handle any more driving. Sky Sports is our normal go-to radio station, the players have TV monitors, Now TV & Xbox's upstairs to keep everybody entertained on the long journeys.
Players will have a bit of banter with us as we cruise along, one will run down to declare It is far too cold upstairs, only for his buddy to appear moments later complaining it's too hot.
Sometimes the players will fly up as the journey is too long, normally only if we are going any further than the midlands. It isn't as much fun when we drive up empty and we miss the chats we have with the players.
We always drive up the day before, so the first stop is heading to the hotel. Whenever we arrive at the hotel, we will always check out the gyms, I am not sure why as we are never likely to use them, but we always entertain the idea that we might do! Before Covid, we would have one drink with the players but times have changed now so we normally head to our room and have an early night, after all, we've been up for hours!
On the day of the match, we give TC (Team Coach) another clean to ensure it's gleaming,  we collect the players when they are ready and take them to the fixture venue, we always enjoy watching the matches and cheering on our team, when the game is over and victory is ours, we load up the coach and head back to Swansea, more often than not we head back cheering!
It's a real honour driving 'The Swans' and we can't wait for them to move into The Premiership.
Feb- 
What a curious month February has been.
As a driver I have found the last 6 months very quiet, I haven't had as many passengers as I usually do. It has been odd not seeing your 'regular' passengers, but the bonus is the roads are almost empty! Although it seems there are triple the number of road works, the local councils are taking advantage of the lack of traffic. Nobody likes being stuck in road works, and as a professional driver, I must spend more time than most stuck in them.
It's much more convenient now Castle Street has opened again for buses, but I do miss the outdoor seating and the pedestrian walkway, I think it was an excellent idea to help maintain social distancing.
I have found the passengers this month have been respectful towards me, they are grateful that we are keeping the buses running and I can get them to their destination, it's brilliant that my team are helping to keep key workers moving. 
It's 'essential travel only' at the moment, people are only travelling on our routes to get to the essentials such as supermarkets, dentists, and doctors.
We've had some instances where people will try to get on the bus without a mask, and it can be a challenging conversation. We're not there to police people, but we do point out that they need a face covering to travel unless they're exempt, this is not only to protect them but also for me, as I continue to work. It's a difficult subject to broach, unfortunately, there's still a minority who do get angry.
Nonetheless, working with the public is one of the most rewarding and most enlightening parts of my job. Throughout this lockdown, I have been quite entertained by a few customers who wear very creative masks. 
My absolute favourite mask so far must be when I was driving the X1 recently. A young man was getting on board, he had a nice suit on, his hair was good, and he looked pukka! However, his face mask looked the opposite; he was wearing one with an image of a big toothy grin with terrible yellow buck teeth - It made me smile!
Since then, I have kept a lookout for other masks that are out of the ordinary, but I haven't seen anything as funny as that one. 
During the X1 service, I picked somebody up who looked like they were wearing some sort of fabric as a face covering, I soon realised it was a tea-towel!
Vaccinations are starting to roll out quickly in Wales. I hope we can get back to some sort of 'normal' soon, my job has drastically changed in the last six months and I'm sure it will change again for the next six.
In the meantime, I will just enjoy keeping an eye out for funny masks!