Cleaning at Adventure Travel - Blog 10/05/2021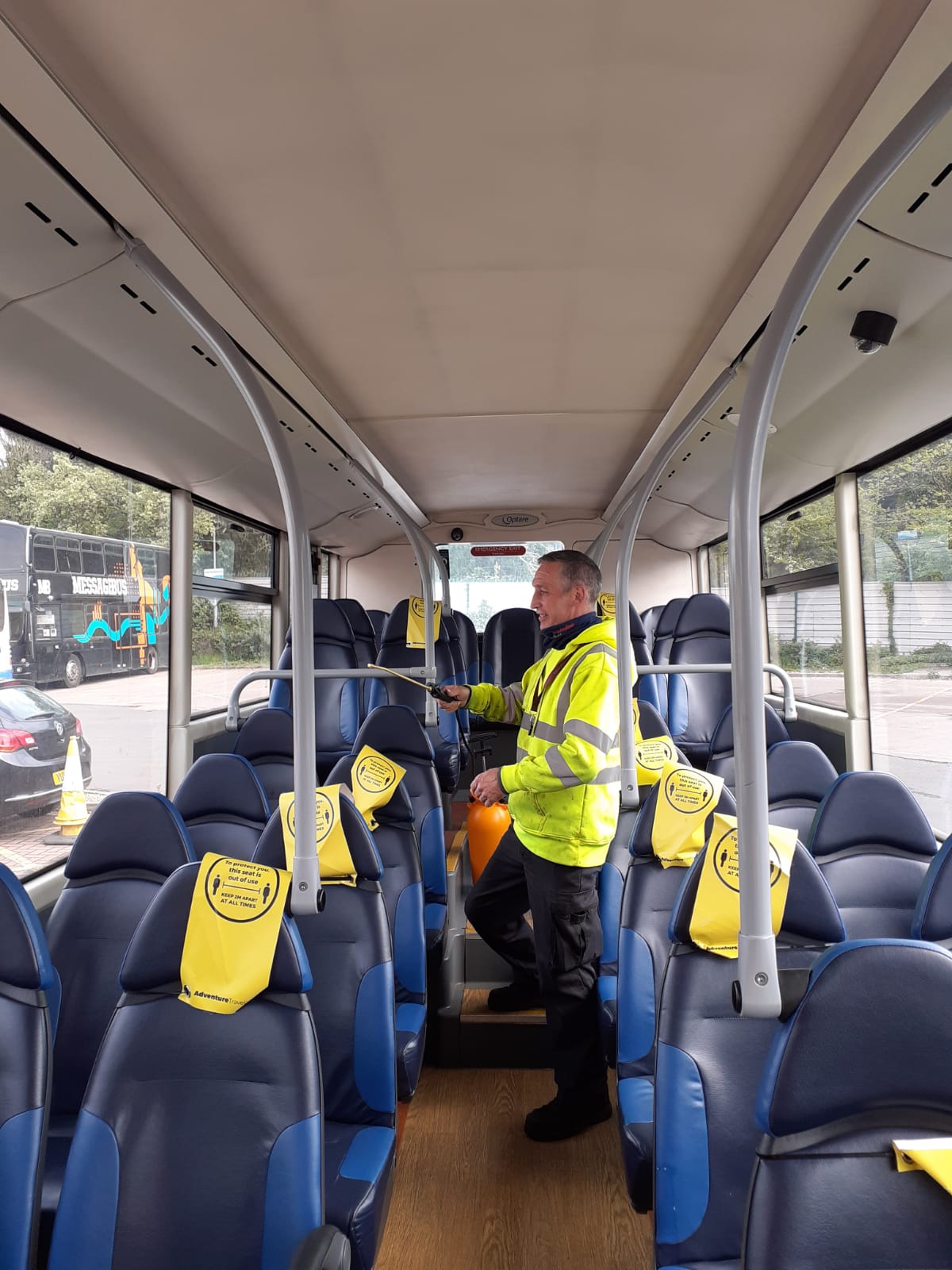 Cleaning is and always has been a crucial element of our business, it is vital that all our fleet, offices, workstations, and engineering workshops are always tidy and clean to use. This promotes good hygiene and reduces the risks of H&S. We are lucky to have such a great team across our depots, even though it is still everyone's responsibility when working or travelling on our buses to ensure we respect our surroundings.  
When the pandemic hit, cleaning became a fundamental action to reduce the spread of the virus. Along with COVID face masks, hand sanitisers and other measures in place to maintain distancing and contact, we have a great cleaning team, who have implemented extra cleaning duties ready for both our staff and customers to work or travel confidently and safely.
Mike is one of our exceptional and very thorough cleaners at Adventure Travel:
"I have worked at Adventure Travel for just over two years, two days are never the same here! I report to the engineering department, my role is to clean and disinfect all our fleet ready for their inspections and MOT's - our buses have a full health and cleaning routine, on a frequent basis.
I carry out this important role wearing all the necessary PPE and highly visible uniform for safety, my team and I have worked throughout the current pandemic due to the increase of cleaning required. I try to strive for excellence, we all do, ensuring that both the buses and the depots are getting the same amount of high standard cleaning as the next.
My fellow colleagues and I collaborate with our engineers, both working alongside each other to prepare for each bus. We have faced some challenges the past year; changing the chemicals we use, increasing the frequency of cleaning checkpoints and keeping to strict social distancing rules, because of this we must take turns to complete our tasks on each bus. We all cannot be on the bus together like we used to, so we communicate efficiently to give each colleague enough time and space to complete their duties.
Our cleaning rota has changed and our hours have increased to allow us time to thoroughly clean all the buses, we have even expanded the cleaning team and now have an extra pair of hands, which has really come in handy – excuse the pun!
Cleaning on a company level is not just about giving something a polish or a hoover – it's much more than that. It's having a great eye for detail – not missing a square inch, guaranteeing everything has been wiped, disinfected, and thoroughly cleaned. Having knowledge about different types of chemicals, equipment, and PPE so I'm safe when I work every day.
When I complete a task, I can confidently say that my fellow colleagues and our passengers at Adventure Travel will be safe to work and travel like normal."